biography
Milan Fibiger, M.A.
artist, book illustrator, rock musician
Milam Fibiger lives in Prague. Since 1995, he has regularly exhibited his work. He uses classical painting techniques. With the technique of the black-and-white gouache, he folows the unique expression of the illustrations of Zdenek Burian, a Czech painter.
The basic features of Milan Fibigers art are well balanced composition, a crafty variety of color, subtle signature, and a great sense for detail.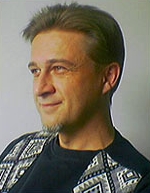 His strongest point is creating the atmosphere of a certain historical era or milieu supported by almost scientific research and study. His illustrations can be found most frequently on covers and inside books connected with the genres of fantasy, sci-fi, classical adventure and fairytale. His free art is full of mysterious creatures and intimate fantastic corners. Milan Fibiger also paints celebrities such as Jennifer Lopez or Ursula Andress the way you've never seen them.
Education
1979-1983 SUP Praha (Publicity art)
1984-1990 VUP (Illustration - profesor J. Salamoun)
Art prizes
Academy of Science fiction and Fantasy
Artist of year 2002
Artist of year 2003
Artist of year 2007
Exhibitions
2007 France – Tarzan exhibition
2003 KRAKATIT – single exhibition
2002 EUROCON – Chotebor
2001 Gallery Fronta "Ikarie & Parcon 2001 – Fantastika v obrazech"
2001 City library Prague
2000 Club ND – Prague
1999 Gallery "Fantastická fakta" Prague
1999 Gallery "S tužkou a pasem" Prague
1998 "Otevreni" exhibition with P. Jaskem
1997 Krakatit